Jubilee concert Leo den Broeder (3-choirs)
11 November 2022
20:00
Sint Bartholomeuskerk (Voorstraat 19, Poeldijk (NL)

A major concert to mark the 40th anniversary of our conductor Leo den Broeder is planned for Friday 11 November 2022. The programme includes Mozart's Requiem and Rossini's Messa di Gloria. This concert was previously scheduled for autumn 2020, but could not take place due to the Corona situation. Naturally, reservations will also have to be made for the date now planned. This concert will be given by the three choirs of which Leo is now conductor. Besides Christelijk Kamerkoor Maassluis, these are Westland's COV "Excelsior" and Exultate Deo from Voorschoten. The concert will be given in the St Bartholomeuskerk in Poeldijk.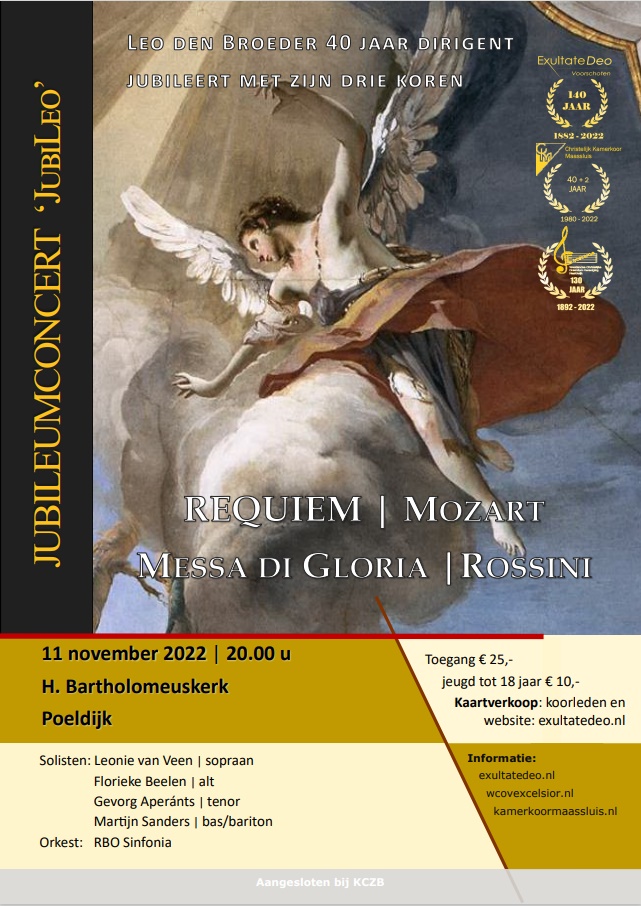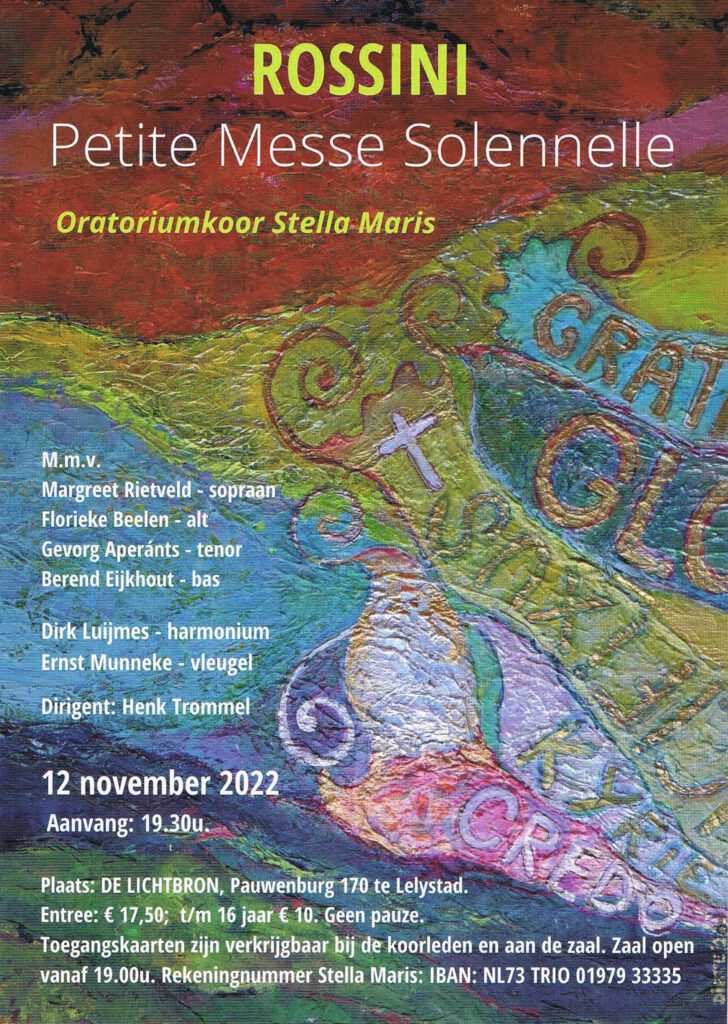 Petite Messe Solennelle - Rossini
12 November 2022
19:30
De Lichtbron (Pauwenburg 170, 8226 TA Lelystad, NL)

On 12 November 2022, Stella Maris will perform the Petite Messe Solennelle at the Lichtbron in Lelystad.
Gioachino Rossini composed this mass when he was 71, in 1863. The music is full of pleasantly catchy melody lines and has the vitality of the operas Rossini became known for.
A certain lightheartedness alternates with quiet rhythms of a meditative nature.
The music is both festive and austere, at times dramatic and at other times subdued.
As intended by Rossini, this mass is performed with harmonium and grand piano. That too makes it a special performance.
Opera meets Musical - Stella Motina, Vera Bogdanchikova und Gevorg Aperánts
Soprano Stella Motina and tenor Gevorg Aperánts together with pianist Vera Bogdanchikova invite you to a fascinating musical journey. The elegant opera and the lively musical meet on the same stage.
supplemented by operetta and Neapolitan songs. A firework of joy for the Advent season!
02 December 2022
19:30
Tschaikowsky Saal (Tschaikowskypl. 2, 20355 Hamburg)
04 December 2022
16:00
Burg Henneberg (
Marienhof 8, 22399 Hamburg)

10 December 2022
19:00
Schloss Vietgest (
Schloßstraße 4, 18279 Lal endorf)
Programme:
A.Dvorak /1841-1904 Aria from Rusalka from the opera " Rusalka".
G.Donizetti /1797-1848
Aria from Nemorino
Duet by Adina and Nemorino from the opera " L'elisir d'amore".
V. de Sica / 1901-1974 "Parlami d'amore, Mariu!"
L. Denza /1846-1922 "Funiculi,funicula"
S. Gastaldon /1861-1939 "Musica proibita"
E. de Curtis /1875-1937 Non ti scordar di me"
A. Lara /1897-1970 "Granada"
F. Lehar /1870-1948
Aria by Giuditta from the Operettе " Giuditta"
Duet Danilo and Ganna from the Operettе " The Merry Widow".
Intermission
L. Bernstein/ 1918-1990 "Nothing more then this" from the Misical "Candide".
From the musical "Westside story":
"Something coming"
"Maria, Maria
"Somewhere
"I feel pretty
"Tonight"
K. Schönberg / 1944 "Bring him home" from the musical "Les Miserables
R. Cocciante/1946 "We of Stone" from the musical "Notre Dame de Paris".
L. Webber/1948
"Memory" from the musical "Cats
Duet of Christina and Phantom from the musical " Phantom of the opera".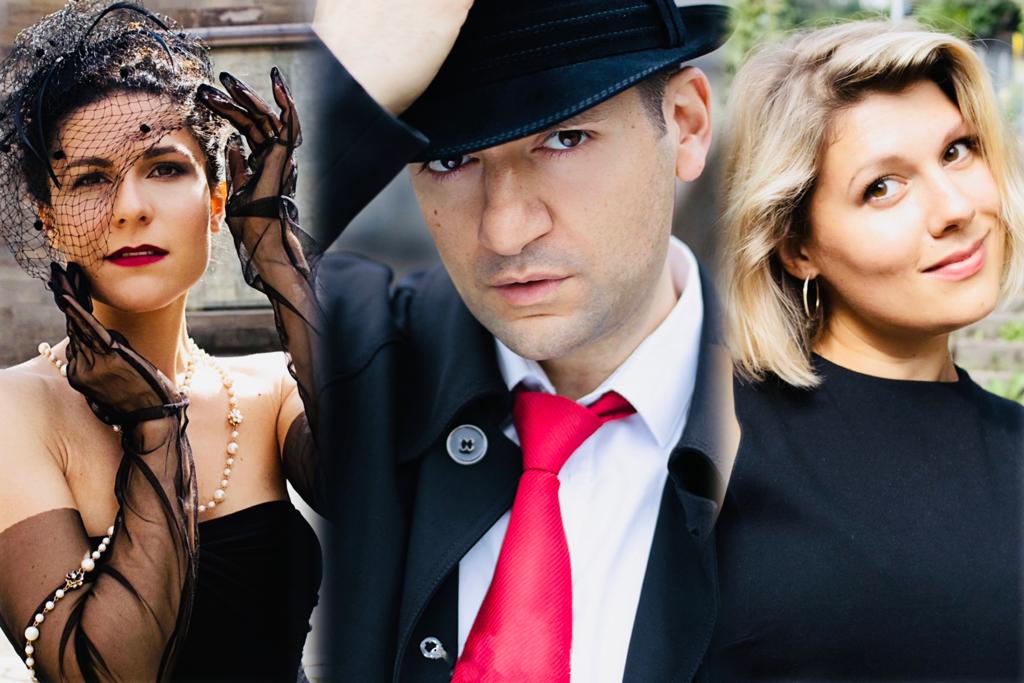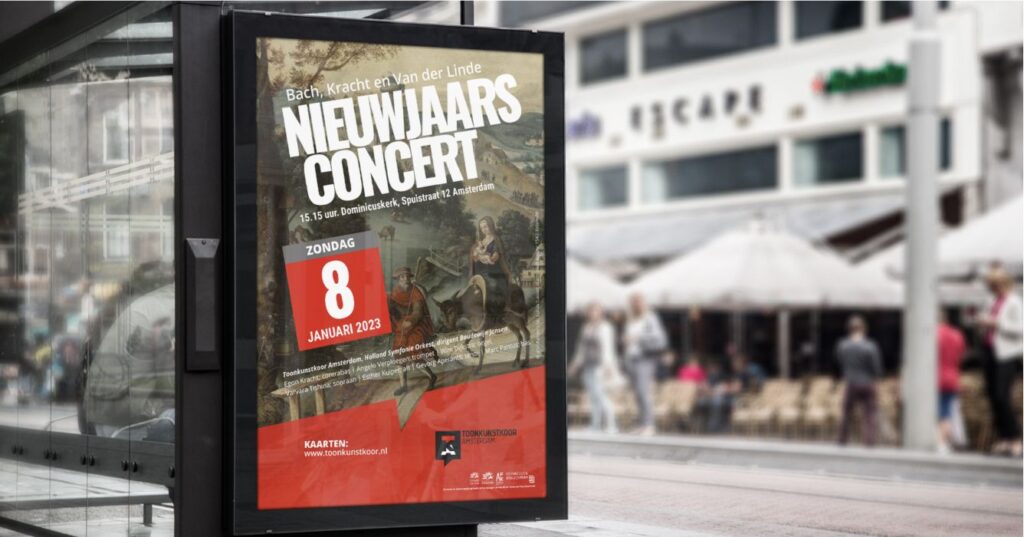 NEW YEAR CONCERT
08 January 2023
15:15
Dominicuskerk (Spuistraat 12, 1012 TS Amsterdam, NL)

In 2018, Toonkunstkoor Amsterdam sang cantatas 1, 2 and 3 of Bach's Weihnachtsoratorium, and a new composition by Egon Kracht, Reminiscent, as a contemporary addition. Now the choir sings cantatas 4, 5 and 6, with another contemporary addition: Three Wise Men by David van der Linde. The choir also sings Reminiscent again.

Conductor: Boudewijn Jansen
Orchestra: Holland Symphony Orchestra

Soloists:
Egon Kracht, double bass
Angelo Verploegen, trumpet
Wim Dijkstra, organ
Varvara Tishina, soprano
Esther Kuiper, alto
Gevorg Aperánts, tenor
Marc Pantus, bass

Tickets are € 30. Upon showing the student card or the city pass with the green dot € 20. Book via kaartverkoop@toonkunstkoor.nl. Mention how many tickets you want and if you qualify for the discount.
MATTHÄUS PASSION - J. S. Bach
Toonkunstkoor Amsterdam performs Bach's St Matthew Passion.
Concertgebouw Chamber Orchestra
Roder Boys' Choir
Conductor: Boudewijn Jansen
Soloists:
Seil Kim, tenor, evangelist
Frans Fiselier, bass, Christ
Varvara Tishina, soprano
Nina van Essen, mezzo-soprano
Gevorg Aperánts, Tenor
Hugo Oliveira, bass-baritone
Concert Dates:2 April 202314:00Philharmonie Haarlem (Lange Begijnestraat 11, 2011 HH Haarlem, NL)Tickets7 April 202319:30Concertgebouw Amsterdam (Concertgebouwplein 10, 1071 LN Amsterdam, NL)Tickets