The award-winning tenor Gevorg Aperánts was raised in a musical family and has been singing and performing since he was nine years of age. He finished his Bachelors at the Conservatory of Amsterdam with Pierre Mak and his Masters at the Dutch National Opera Academy with Ira Siff and Raymond Modesti. He also took masterclasses with Nelly Miricioiu, David Parry, Ruggero Raimondi, Dennis O'Neill and William Matteuzzi.
In 2012 Gevorg sang the tenor part in the world premiere of the Requiem for Auschwitz in the Nieuwe Kerk in Amsterdam, which was televised on the Dutch television.
Gevorg together with the legendary Armenian singer Ruben Matewosyan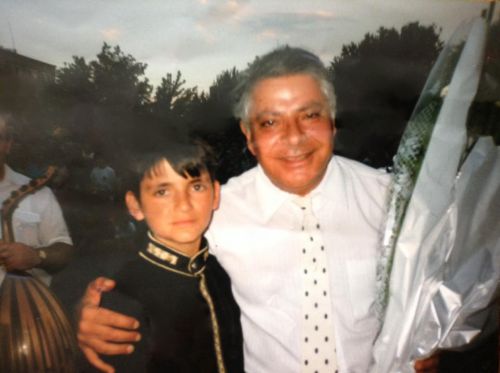 Working on an Aria together with Ruggero Raimondi at a Mozarteum Salzburg Masterclass in 2010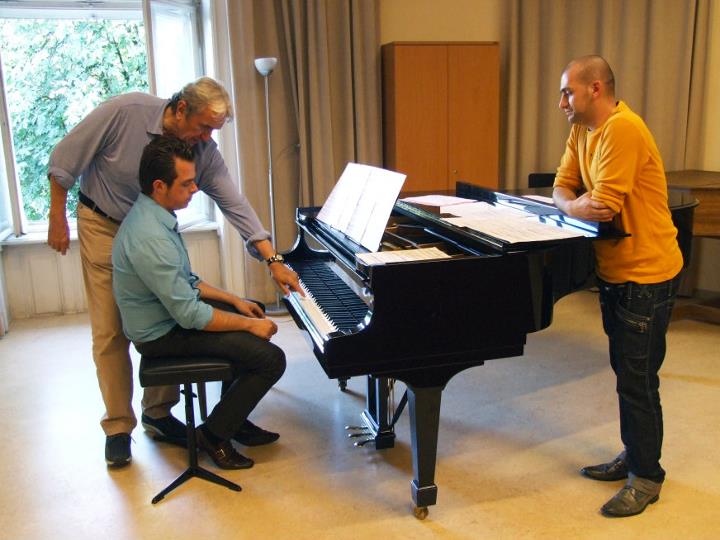 After his graduation Gevorg started his international career at Junge Oper Hannover and Staatsoper Hannover in Germany. He was engaged in Hanover from 2013 till 2017, during which he was part of productions such as ''Tosca'' with Sir Bryn Terfel as Baron Scarpia and Neil Shicoff as Mario Cavaradossi, ''Un Ballo In Maschera'', ''La Traviata'', ''La Forza Del Destino'', ''Candide'', ''Le Nozze Di Figaro'', ''Rigoletto'' and many others. As a freelancer, his career moved with the NDR Klassik Open Air production of Rigoletto conducted by Kari-Lynn Wilson and a wonderful cast with Ludovic Tézier as Rigoletto, Nadine Sierra as Gilda, Stephan Costello as Duke of Mantua, Varduhi Abrahamyan as Maddalena and others wonderfully talented artist.
Gevorg's expansive artistry has given him the flexibility to gracefully perform not only opera but also oratorio, art songs, musical theatre and jazz. In 2018 he won Best Male Actor for his moving performance of Tony in Clingenburg Festspiele's production of the legendary musical West Side Story. After West Side Story he played the part of Fritz Steppke in the Staatstheater Cottbus production of the Operetta Frau Luna of Paul Lincke. Gevorg has also worked with many non-profit organisations and governmental institutes to do benefit concerts and various levels of arts outreach, most notably with the Dutch charity organization Mensenkinderen and the European Commission in Brussels, which has been a wonderful experience.
Together with Neil Shicoff, Brigitte Hahn and Sir Bryn Terfel after thair performance of Tosca at the State Opera Hanover in 2015.
Requiem für Auschwitz
The World premiere of "Requiem für Auschwitz" in the "Nieuwe Kerk" in Amsterdam on the 3rd of May 2012.
Played by the Roma and Sinti Philharmonics from Frankfurt am Main together with the Amsterdam Student Choir.
Conducted by Riccardo M. Sahiti.

Soloists:
Kristina Bitenc (Soprano)
Kadri Tegelmann (Alt)
Gevorg Aperánts Hakobjan (Tenor)
Laurent Deleuil (Bas)